Meet Dr. Tyler Hagen
Dr. Hagen's motto is "move better, feel better," and he loves helping patients do just that by solving the puzzle of what's causing their issue and correcting it.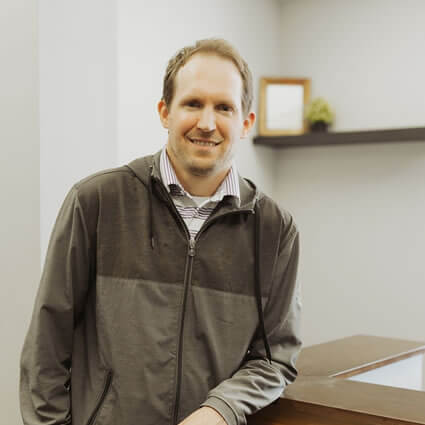 He first received chiropractic care as a collegiate athlete, and knew chiropractic would be a good fit for him professionally.
Discovering Chiropractic Care
Born and raised in Moorhead, MN, Dr. Hagen earned his bachelor's degree in chemistry from Minnesota State University, Moorhead. As a starter on the varsity football team and a member of the track and field team, Dr. Hagen suffered various injuries throughout his college career. He enjoyed the process of rehabbing from injuries, learning from the different providers who helped him. His experience with chiropractic care motivated him to pursue it as a profession so he could help others.
He attended Northwestern Health Sciences University and received his Doctorate of Chiropractic in 2012. During a prestigious externship, he had the opportunity to train with chiropractors who specialized in sports medicine and exercise physiology at an integrative clinic in Vail, CO. He also worked collaboratively with physical therapists and neurologists.
The Road to Fargo
After graduation, Dr. Hagen practiced in Bellevue, WA, collaborating with orthopedists and physical therapists to provide comprehensive care for his patients. He then practiced in the Twin Cities before opening WestEnd Spine and Rehab in 2015. He's passionate about providing the highest-quality chiropractic care to the community he grew up in.
Dr. Hagen strives to provide the most current evidence-based chiropractic care, and he continually expands his education to better serve our patients. He will receive certification as a Primary Spine Practitioner from the University of Pittsburgh in December, 2021.
EXPLORE CHIROPRACTIC
Away from the Office
When he's not at work, Dr. Hagen enjoys spending time with friends and family. You can often find him on the golf course or watching high school and college football. He's an enthusiastic cook and grows his own vegetables. Dr. Hagen is also an active member of the North Dakota Chiropractic Association.
Get the Care You Need
We look forward to welcoming you to the practice. Contact us today to book your first appointment.
---
Dr. Tyler Hagen | (701) 639-2436